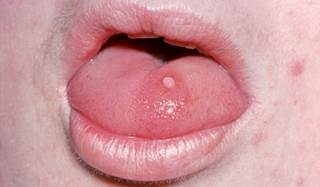 Oral warts appear inside of a patient's mouth. But they can also look on the area around the lips. Oral warts do not appear in clusters but in some cases, they can. During oral cavity, the patient has sometimes to deal with not one wart but many warts.
What is Oral Warts
In comparison to other warts, oral warts are small in size. They are rough, lumpy and rather discrete. The shapes of oral warts are of various types. These warts develop like dome-shaped mounds. They are rather mucosa or white in color. Sometimes, they also look like flat-topped and mucosa in color while sometimes they look like thick-frond outgrowths.
Some of the common symptoms of Oral Warts are
• The basic symptom is that the inside line of mouth cavity will become sore. Infection especially causes this thing. Warts that grow due to infection are very painful and dangerous.
• Oral warts are not that painful, but if the patient will touch it with his tongue or accidentally bites on it while eating food, then they can become very painful for the patient. Making the condition very painful for them to deal with it.
• During advanced stages, warts might begin to bleed. This is also one of the main symptoms of Oral warts.
• In advanced stages, the color of oral warts becomes dark brown and sometimes it also becomes light hues.
Why do Oral Warts Originate?
The primary cause of Oral warts is Human Papilloma Virus also known as HPV. This is a virus that is composed of a DNA with double strands. This virus comprises of 100 strains. Among all strains, only HPV11, HPV13, HPV6, HPV2 and HPV32 can cause oral warts.
How do Oral warts spread?
Like all other warts, oral warts are contagious in nature. The pathogen of Oral warts spreads very quickly and becomes infected after getting into contact with warm and moist skin conditions. This is caused due to lack of hygiene. Another way by which oral warts can be spread is by kissing. People having low immunity may also suffer from oral warts. Individuals who are affected by HIV may also have to suffer from oral warts.
Measures That an Oral Warts Patient Should Take To Deal with it
First of all, the people suffering or not suffering from oral warts should always use condoms while doing oral sex with their partners. If anyone wants to keep warts at bay, they can use dental dams. Another way of preventing oral warts is that people should not do sex with a person who is already suffering from oral warts. The people should also not use the items of an individual who is suffering from oral warts for example toothbrushes, etc. This is another way of preventing oral warts. Try to keep your mouth clean by regularly rinsing with water. Every patient must follow proper care and diet, this will help you in fighting and getting rid of oral warts, quickly.